Testimonials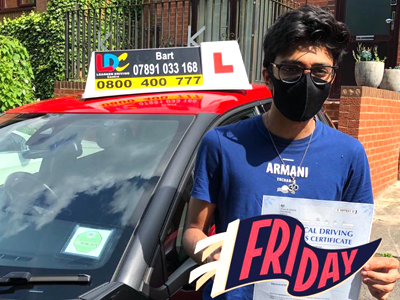 Kamran Patel
Bart made me feel very calm and honestly I couldn't ask for a better instructor. Taught me very well and always made me feel at ease.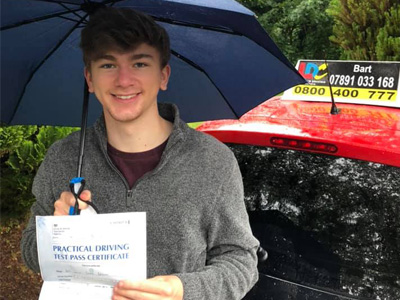 Samuel Braham
Passed 1st time
Bart is an excellent driving instructor. He clearly cares a lot about the journey of his students as shown by his supportive attitude and calm demeanor. He is happy to work with you when arranging and planning lessons allowing for a certain level of flexibility. Bart is also an easy man to talk to, having comfortable conversations adding to an all round great learning environment. He is very observant to how one drives, ensuring safety in early lessons and attention to detail in the later ones. I would definitely recommend Bart.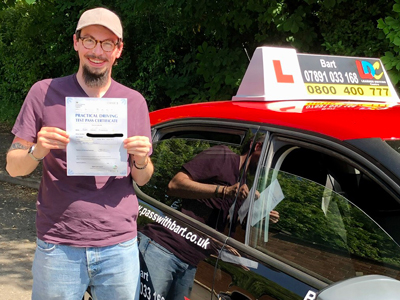 Adam Donnelly
First time pass
Firstly, I found the resources provided by LDC very helpful, especially with the theory test. The online portal really helped with my study for the theory. The workbook was great when initially learning as all the lessons and learning objectives are broken down into easy to manage items. Bart was a great teacher and I wholly recommend him to any learner young or old (I'm 34). He is very patient and takes time to talk through any issues so you can see where you went wrong. Overall I found the LDC system and instructor great, I passed first time! Also personal thank you to Bart for being accommodating to my situation.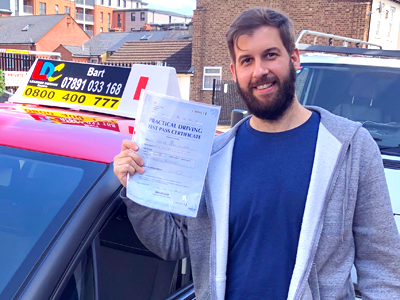 Xavier Solano
1st time pass
I'm very pleased with Bart, he is very patient and doesn't give up until you understand and manage to progress throughout the lesson. He is very dedicated and always shows up on time for the class. Thank you for everything!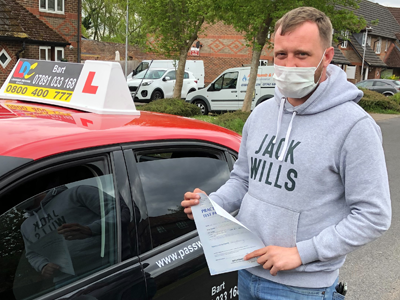 David Brockway
Passed 1st time
Bart is a very good instructor, he helped me pass first time. He quickly understood how I like to learn and was always reassuring and supportive. I would recommend Bart to friends and family.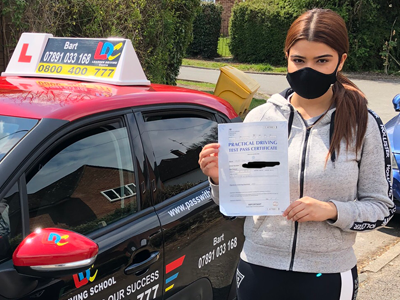 Jasmine Fletcher
First time pass
Passed first time! Bart made me feel comfortable in all lessons and helped a lot with my progress. Really good instructor!! Had a range of different methods/resources such as the learners LD workbook. Highly recommend.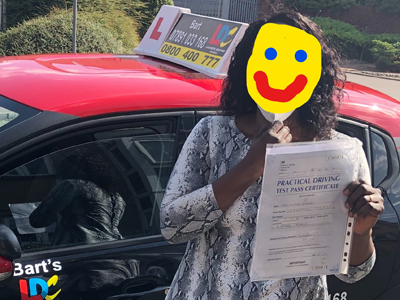 Sophie Sanno
I will rate my instructor Bart 5 stars. He has been patient, helpful and very dedicated to his role as an instructor. Throughout the lesson he will explain and make sure I apply what we learn. Thanks for all your support and positive feedback.

Jonnathan O'Sulivan
1st time pass
Bart has been an excellent instructor, has helped me become a safe and confident driver. I loved the student centric approach and Bart allowed me to identify my own next steps. The LDC youtube videos and worksheets were invaluable. They helped me prepare and save time in the lesson. Bart is an absolutely indispensable asset to your company.
Call today on 07891 033168 or Email me to find out more
If you have any questions or to book lessons today, feel free to contact me